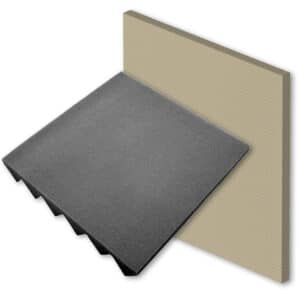 A popular solution for sound absorption for interior spaces is acoustic foam. Foam's primary selling point is that it's "cheap." This is true, foam can be very inexpensive. However, if the product doesn't do the job, any amount of spend is wasted spend.
At Acoustics America, we want our customers to get the best value for their spend. Before you purchase acoustical foam for your project, consider the below reasons why our acoustical fabric-wrapped fiberglass panels are superior to foam, and overall, a smarter decision.
Our Acoustical Panels are Class A Fire Rated. This means that they've undergone rigorous testing in a lab setting, and have been determined to be as safe as possible for use in interior spaces. Interior spaces are critical when it comes to fire rating, where any accident could result in significant damage and loss of life. Other panels advertise themselves as "fire resistant", but that term has little meaning. If it hasn't been tested and there's no accountability, where is your peace of mind?
Our fiberglass core is more absorbent. In terms of acoustical cores, fiberglass is a much better absorber than foam. Our fiberglass panels are, on average, over 75% more absorbent than foam, across all frequencies. This performance difference means less square footage of product to achieve the same or better sound absorption result.
Our product looks better. Our Fabric-wrapped panels come in a variety of colors and sizes (22 colors, 19 sizes and 2 thicknesses to be exact), which means you now have a lot of design flexibility. Acoustic foam typically comes in two colors (white or black), and typically in one or two sizes. Fabric-wrapped panels will make your space will look good and sound good, too.
Our panels and clouds are longer-lasting. Fabric wrapped panels are a more durable, long lasting product. The fabric protects the core from wear and use over the long term. Acoustical foam can disintegrate and rot over time, leaving a dusty mess.
All of our panels are made in the USA. The fiberglass panels we offer are manufactured in the USA and as such, are held to a higher standard. Many acoustical foam products are manufactured overseas, where quality and composition is either not advertised or not traceable.
Make the smarter decision, today.  Learn more about our Acoustic Panels, Acoustic Ceiling Clouds, Bass Traps and Acoustic Room Kits.